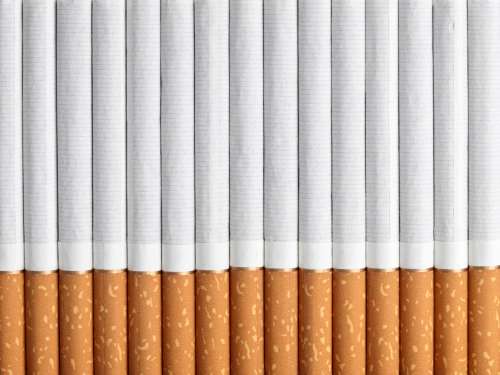 PAPCEL group produces

complete plants making and converting special paper for manufacturing cigarettes, i.e. complete stock preparation lines and complete paper machines for cigarette paper making.
Cigarette paper is the envelope wrapping the tobacco. It is a special paper grade for an industrial production and for hand cigarette rolling. High quality paper from chemical pulp is used.
Cigarette paper together with other paper grades fall within a group of specialty papers distinguished by fulfilling specific features required by their particular functions and use.
Basic cigarette paper grades
Nowadays the factory-made cigarettes usually have filters. Therefore the basic paper grades are used for manufacturing cigarettes:
Cigarette tissue - the envelope wrapping the tobacco.

•

Plug wrap paper, filter envelope paper - filter inner envelope.

•

Tipping paper - filter outside envelope, mechanical connection between the filter and the cigarette paper wrapping the tobacco.

•
Fig. Basic cigarette tissue and paper grades
Requirements on cigarette paper
Cigarette paper requirements must meet special needs for their end use:
High tensile strength

High tearing strength

High opacity

Low air permeability

Excellent burning speed control

Good edge, quality cut without burrs

White ash

Good runnability
Cigarette paper properties
Cigarette paper grades may be defined with respect to their basis weights, furnish raw materials and colour shades.
Basis weight range viewpoint
The cigarette paper is usually made in the following basis weight ranges:
Cigarette paper 23 - 40 gsm, for hand rolling lower - from 12 gsm

Plug wrap paper 17 - 28 gsm

Tipping paper 28 - 40 gsm
The main furnish raw materials for cigarette paper are:
Annual-plant pulp - linen, hemp, sisal (100 %)

Chemical pulp (100 %)

Mixtures of both
Production of cigarettes includes three phases - processing tobacco leaves, manufacturing cigarettes and packaging incl. preparations for distribution. Cigarettes may be machine-made or handmade. Machine processing dominates the production.
Cigarette tissue manufacturing machinery
Making cigarette tissue is one of the most complicated papermaking processes in the fields of stock preparation, approach flow and tissue machinery.
Concept of stock preparation line and approach flow system
A stock preparation line (SPL) and an approach flow (AF) system must prepare stock that gives the final product optimal values of all the necessary properties and at the same time an acceptable minimum energy consumption. The concept is basically the same for all the cigarette paper grades and differs only in input furnish, headbox consistencies and capacities of particular machinery items. They correspond to a total machine production capacity depending on the manufactured grade.
Cigarette making chemicals
Cigarette papers contain a whole range of chemical additives (25 to 35%) and together with decor papers they fall within the most sophisticated grades. The chemicals are added to stock and to starch slurries for a size- or film press.
Plug wrap papers - compared to cigarette papers - contain less chemical agents but they are important for achieving required properties like a surface strength and a high porosity. In any case they must not influence a tobacco taste and smell.
For tipping papers chemical agents similar to those used for coating printing papers are utilised.
Plant (kitchen) for making tipping papers coating mixture
A standard coating mixture kitchen includes:
Preparation of fillers (china clay and calcite slurries - GCC and PCC)

Separate storage and dosage of particular slurries

Making solutions of auxiliary vehicles - oxidized starch and carboxy-methyl-cellulose (CMC) - common for all the raw materials

Storing vehicle solutions - separate for each raw material

Storage and dosage of main vehicle - latex

Preparation of coating mixture in blending device

Storage and transport of coating mixture

Dosing other chemicals

Control system for automated kitchen operation

Workstations for each coating stage
1. Cigarette paper machine
Cigarette paper is made by machines with deckles of 2 to 3.8 m and operation speeds of up to 500 m/min.
A headbox is expected to ensure a formation of fibres coming to a wire part as well as a uniform cross profile being for cigarette tissue the property of the highest priority. Stock headbox consistencies range from 0.6 to 1.2% depending on a furnish sort and above all on a manufactured tissue basis weight.
Similarly to most specialty papers, cigarette paper is made on standard Fourdrinier wires with cantilever stainless frames, equipped with dandy rolls to meet the requirement of a good fibre formation. For dewatering capacity important for gradual water drainage, separate foils or open hydrofoil boxes are used. The wire retention is usually 65 to 80%.
Another typical equipment in the cigarete paper machine wire part is a shaker. It enables a better formation of fibres coming from the headbox to the wire part and thus improves the paper properties. The dewatering process is also improved.
The press parts are usually composed of two presses where the first press mechanically dewaters the tissue web while the other is a marking press. Other elements of the press parts (stretchers, controllers, showers, suction tubes and the like) are of standard design identical to other paper machines. Felts used in the press parts must be of appropriate basis weights and other parameters for the press design and manufactured paper grades
.
The cigarette paper machine drying parts are of a double tier make but significantly modified to suite the special characteristics of the final product.
Cigarette paper machines end with reelers. This machine part serves to wind paper web onto reels. Identically with most of the other paper grades, for reeling cigarette paper the Pope type reelers are used. The reelers are usually equipped with separate rope threading loops and regardless of very low basis weights with semi- or fully automated reel spool exchange threading. Dry broke pulpers are also at the ends of the machines.
Other parts of cigarette paper machines
The other machinery items needed to complete cigarette paper machines are entirely comparable to the same of PMs making other paper grades. They only respect required performance and size parameters. Multi-engine drives, scanners, QCS and DCS control systems, hydraulic and lubrication devices, vacuum systems (turbo blowers), couch and dry broke pulpers and others fall within this machinery group.

2. Plug wrap paper machines
The design of plug wrap paper machines meets the basic demands placed on this paper grade, above all a sufficient surface strength and a high porosity determining thickness of cigarettes. The porosity is usually very high and it must be reached without deviations. That can be achieved only at very low consistencies of 0.1 to 0.3% and optimal fibre distribution.
Such requirements find their solution above all at the paper machine wet end. Nevertheless generally one can state that paper machines of this type are usually 2 to 2.5 m wide and their operation speed is up to 400 to 500 m/min.

3. Tipping paper machines
Machine sections of this PM type are identical with the same of the above mentioned machinery but the design is adapted to the manufactured paper grade. The PM deckle is usually around 5 m and the operation speed higher, up to 1,000 m/min. Such PMs usually have a broader production program and besides tipping papers the make fine printing papers, bible papers etc.
Unlike cigarette paper machines using calenders to smooth or emboss tissue, tipping paper machines are equipped with double-side soft calenders.