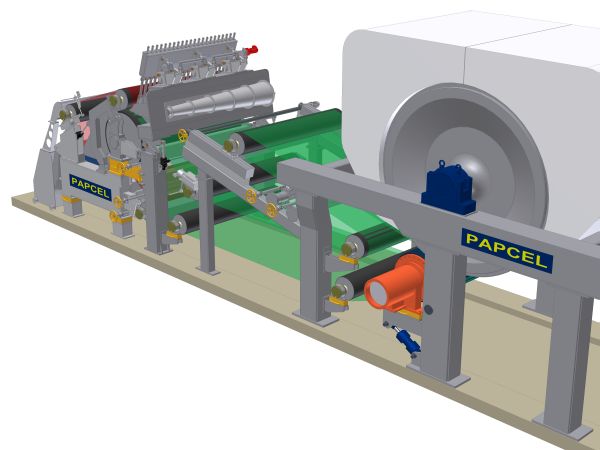 The modern tissue-making processes puts great emphasis on the operation speeds of the tissue machines. The Crescent former is the solution. PAPCEL provides its own Crescent former concept with a hydraulic headbox.

The headbox can be delivered in a standard single-ply version or in a two-ply design.
The headbox features a unique turbulent tube design enabling:
Optimal web formation
Stable stock flow
Low power demands
Good fiber distribution in the Z-direction enabling to increase final product bulk density
| | | | |
| --- | --- | --- | --- |
| | Type A | Type B | Type C |
| Design speed | 1,200 m/min. | 2,000 m/min. | 2,200 m/min. |
| Max. wire width | 2,850 mm | 2,850 - 3,650 mm | 3,650 - 5,650 mm |
| Number of plies | 1 | 1 - 2 | 1 - 2 |
| Dilution control system | no | optional | optional |
| Number of wire rolls | 4 | 4 | 5 |
Headbox special features
The PAPCEL tissue headbox shows remarkable stability and reliability. All the new tissue plants equipped with this headbox manufacture high quality tissue from the very first reel. The main features influencing the performance are:

Solid stainless steel structure

Short free jet length

Excellent basis weight cross profiling

Easy maintenance

The Crescent former is today the standard forming section for production of tissue papers with basis weight from 12 to 45 gsm at design speeds up to 1,000 - 2,200 m/min. High capacity dewatering is obtained by the squeezing action of the forming wire around the forming roll.
Design
The Crescent former framing is a cantilevered structure, made of stainless steel and designed for easy and fast wire changing operation. The water drained around the forming roll is directed by a deflector into the main saveall embedded in the framing. The forming roll is a plain roll with rubber cover, driven by a sectional drive. Wire run accessories, such as wire stretchers, automatic tension control, wire guiding are part of the Crescent former section.
Main parts
Supporting structure
Forming roll with bearings & housings, wire guide rolls with bearings & housings, pneumatic wire guide, wire stretching, wire tension control

Oscillating doctor for forming roll

Oscillating doctors for guide rolls

Showering system of wire part, incl. low-pressure showers and

high-pressure oscillating shower

Chemicals wire shower

Savealls for water collecting and discharging from forming part

Wire deflector, walkways and ladders, soleplates
Accessories
Equipment for roll change and wire installation

Forming roll mechanical drive

Controls

High pressure water distribution piping, including pump