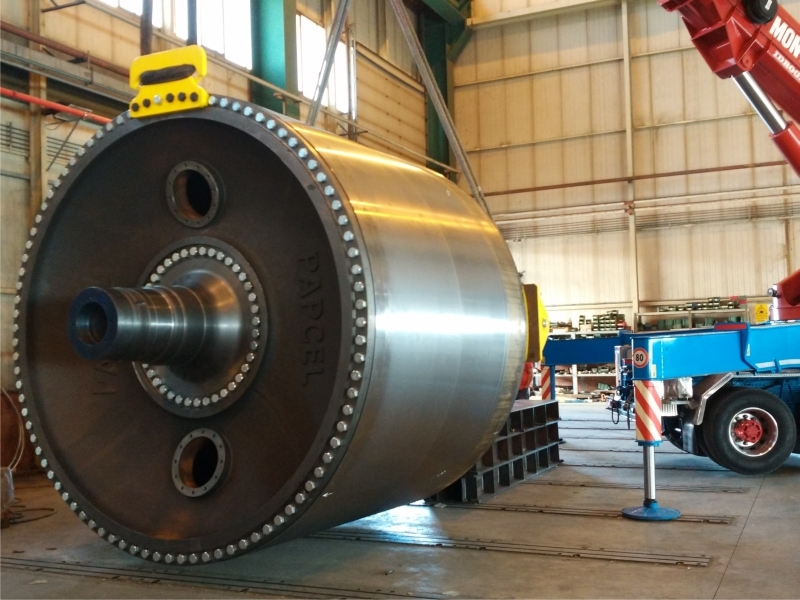 The PAPCEL/ABK Group delivers Yankee cylinders

either for its own machines or for third parties

for various paper grades like crepe papers, hard tissue, machine-glazed papers. The Yankee shells are made from special steel alloys. For special paper and tissue hard metallization is offered.
standard diameters 2.5 ; 3.2; 3.6; 4.5; 5.0; 6.0 m

total weight up to 50 tons

operation pressures 8.5 to 10 bar

pressure vessels certificates

(as per the legal regulations in the destination countries)
Design
The Yankee drying cylinder design enables the operation at high steam pressures, high speeds and maximum drying capacities. That is achieved by means of special innersurface grooving or ribbing. Condensate is collected in the grooves, the main surface part is run dry and thus eliminating the transferred heat loss caused by the condensate layer. Special stainless clips inserted in the grooves cause condensate layer turbulences and thus further improve the heat transfer. The Yankee grooving requires a special condensate draining device with more fronts equipped with stainless steel tubes "sipping" (like a soda straw) condensate from each groove.
Machining
The Yankee dryers are machined on a special vertical lathe enabling surfacing and finishing as well as boring and grooving. Final grinding and finishing are done on the same lathe by means of a special adaptor.
Special accessories
All the Yankee dryers are delivered incl. accessories like a special hollow shaft, double reduction gearbox. The gearbox is lubricated with oil from the lubricated unit serving also the Yankee dryer bearings.